First SIS8300 Digitizers stuffed
SIS3305 Digitizers shipping
Both the 400 MHz analog bandwidth limit LEMO and the 2 GHz analog bandwidth SMA input stage versions are shipping.
Acquitek and Struck sign distribution agreement for France
Struck Innovative Systeme is pleased to welcome Acquitek as new partner for the French market. We are looking forward to working with Acquitek to better serve our French customers.
SIS3305 preseries boards stuffed
SIS8300 µTCA for Physics Digitzer
10 Channel 125 MS/s 16-bit With Fast Feedback DACs
New Development in co-operation with DESY under ZIM Förderkennzeichen 2460101MS9
The SIS8300 will be a µTCA for Physics digitizer card. High speed readout will be implemented via a Virtex V FPGA based four lane PCI Express lane implementation.
Block Diagram of SIS8300 With Downconverter Rear Transition Module
SIS3305 5 GS/s Digitizer Preseries in Production
A 16 channel 1.25 GS/s acquisition system based on the SIS3305 and USB is shown above
SIS8100 AMC GLink cards stuffed
Struck Innovative Systeme launches new web site
After running a minimalistic approach for many years we have decided to go to a CSS based design. The underlying linked pages are mainly in their old format and will be gradually upgraded.
SIS3104 VME sequencer cards stuffed
SIS1100-eCMC PCI express cards stuffed and running with SIS1100-OPT/SIS3100 under Windows 2k/XP (i.e. PCI Express to VME Interface operation)

SIS1100-eCMC PCI express card in PCB production
Struck Innovative Systeme receives ISO9001:2000 zertificate from Germanischer Lloyd Certification (GLC)
First SIS3350 4 channel 12-bit 500 MHz Digitizers stuffed

Struck Innovative Systeme proposed for issue of ISO9001:2000 zertificate
Initial external audit of quality management system completed successfully
Issuance of Germanischer Lloyd zertificate expected by mid of June 2007
First SIS3302 8 channel 16-bit 100 MHz Digitizers stuffed
First batch of SIS3320 8 channel 200 MHz Digitizers shipped
First SIS3320 8 channel 200 MHz Digitizers stuffed
SIS3150USB USB2.0 to VME interface shipping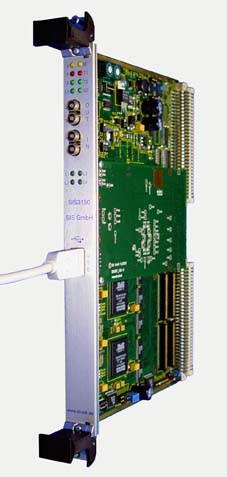 SIS3150 Dual TIGERSHARC twin VME CMC carrier shipping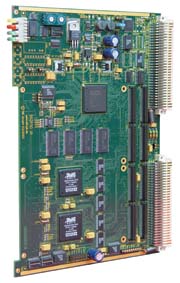 SIS3820 VME multi purpose scalers shipping
Firmware version 01 01 of the SIS3820-SCALER shipping
SIS3301 8 Channel 100 MHz 14-bit ADC shipping
The 14-bit version of the SIS3301 is available in limited volume.
SIS3300 8 Channel 100 MHz 12-bit ADC
Trapezoidal FIR filter for triggering (major firmware revision 0x11)
A trapezoidal filter was implemented for DC/offset independent trigger generation on the SIS3300 ADC/digitizer. The screen shot below shows the input on ADC channel 1 and the corresponding FIR filtered data (which can be stored to ADC memory with in test mode also).
Last update 09.07.09 by
Matthias Kirsch